 Project Work
The Project world is consistently a hugely popular feature of our business services. This is where we sit down with a client, identify the 'must-haves' and make things happen within a fixed and usually short timeframe! Typically, the project work derives from a requirement by a client that has a prosperous business, utilising traditional and more manual methods of customer outreach and they recognise that they want to introduce a website or ecommerce facility or re-engineer their online shop-front to make it more compatible with new technologies and customer relationship management tools. This is where we can help.
We work with some of the most inspiring businesses, from sole traders to the majors. We are inspired by ingenuity and entrepreneurial endeavour and we work to showcase the talents of our clients.
Case Study
To best illustrate what we do in typical Projects, our work with a specialist Spa Consultancy serves as a good example. Our brief was to work with Peigin Crowley to:
(i) Identify the "Peigin Crowley" brand; develop marketing logo and content; develop a corporate website with emphasis on Spa Design consultancy; build a PR profile;
(ii) Increase the "Peigin Crowley" brand awareness and target the Irish market for business development and sales prospecting. Taking the business to potential customers!
We didn't invent Peigin. She is amazingly talented and responsible for the creation of beautiful Spa journeys. She recognised that she needed to build her brand and showcase it to the world. It was crystal clear to us that Peigin is a creative, artistic designer who demonstrates a genuine passion for her portfolio of diverse and multi-disciplined projects. Her experience has evolved over 20 years of creative design work starting with luxury cosmetic goods in-store layout and design; premium brand promotional engagement with Estee Lauder; Darphin; Aveda, Crème de la Mer, etc., including the introduction of Elemis to Ireland in that period; and developing her creative portfolio to include 'showhome showcase' interior designs for major housing developments. This breadth of experience and expertise led to Peigin and her associates being awarded 5* Hotel Spa design commissions in for example Adare Manor (opening late 2017).
We just helped her to tell the world. She does this in her own inimitable style. Visit www.spaconsultancy.ie and check out the Testimonials!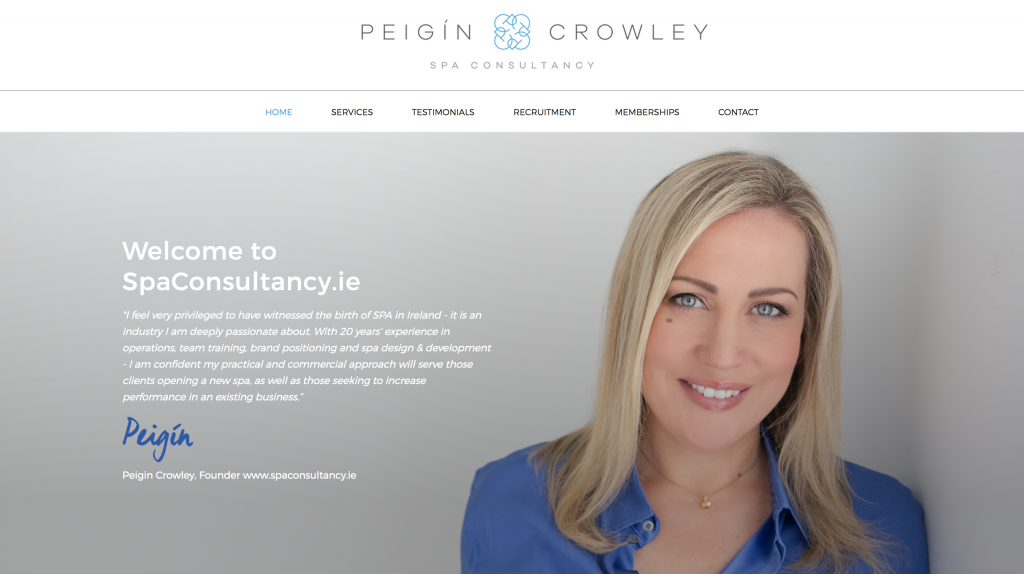 If you would like to explore opportunities of how we might support your business with our Project services, then just contact us here and let's talk.