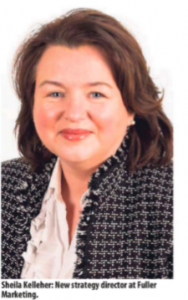 CORK-BASED marketing agency Fuller Marketing has appointed Sheila Kelleher to the position of Strategy Director – The business's third appointment in 12 months, bringing it from one person operations in 2015 to a team of four in less than 24 months – with continued recruitment on the cards over the next 12 to 24 months.
Recognising the significant opportunity for growth, and the need for increased senior level expertise, Fuller Marketing sought out Sheila Kelleher. Ruth Fuller (MD) and Kelleher had previously worked together in Minelab Electronics PLC, a publicly traded Australian Company, to deliver multi million Euro growth through digital marketing.
Ruth Fuller MD at Fuller Marketing commented of the appointment "Reuniting with Sheila was a natural step for Fuller Marketing. We are really excited about what the future holds for our agency which has gone from strength to strength since it was set up in 2015"
Of her appointment, Sheila Kelleher, Strategy Director said "I am delighted to be a part of the Fuller Marketing team. It's partly a case of a team reunited as Ruth I worked together previously when she fulfilled a WW Marketing Manager brief for a consumer electronics company. I witnessed her expertise first hand, particularly her skill in using digital marketing  to target established markets and develop new ones. Our management and work styles compliment each other and i'm excited to be part of such a proactive team with such energy, flair and drive for success."
"My input will be two-fold. Firstly, I will identify opportunities for Fuller Marketing that align with our services which will allow us to show case our full skill-set. Secondly, I will identify and support strategic business opportunities for our clients, which add a crucial dimension to the marketing brief and future business planning."
"I will use my industry experience across maufacturing, international business development, sales and channel distribution to ensure we can deliver measurable growth to a clients bottom line."
Fuller Marketing was founded by Ruth Fuller in 2015. After training in some of the best agencies in Ireland, and working on some of the worlds biggest brands, with both traditional and digital media, Ruth returned to Cork and moved in-house where she worked in local, national and international marketing. Ruth saw an opportunity for end-to-end marketing support.