Irish Retail and Consumer report from PwC showing the most recent stats and figures regarding Irish consumers.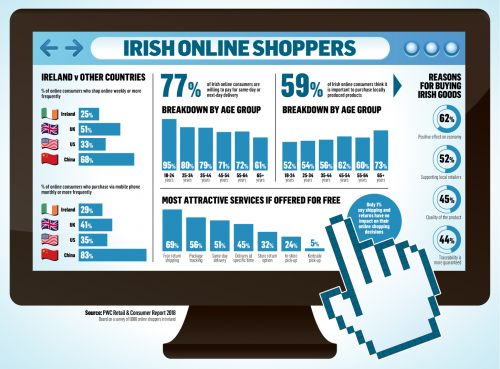 Physical shops will continue to be the single most important retail channel regardless of digital disruption, but less than half of customers are satisfied by their in-store experience.
High profile retail struggles, including the recent insolvency of ToysRUs in the UK, have focused attention on the potential risk to traditional shopping districts and to so-called big-box out-of-town outlets as more consumers shop online. The PwC research suggests the physical retail model remains resilient, although vulnerable.
Nearly half (46pc) of Irish consumers said that they shop in-store at least weekly. The survey shows that consumers like to shop in stores and will continue to do so – by providing the right combination of experience, value, conveniences, service and integrated physical and online services.
The data does show that, to remain relevant, traditional stores need to adopt to changing consumer technology – for example almost a third (31pc) of Irish consumers say mobile is their preferred method of payment in-store, rising to 66pc for those aged under 34.
John Dillon, a partner in PwC Ireland Retail & Consumer Practice, said the research highlights the complexity of customer engagement. "The survey paints a picture of consumers who are complex, conflicted, and highly segmented by age, bringing consumer markets to a turning point," he said. "The convergence of new technology and emerging patterns of social interaction are reshaping consumer habits in ways that will heavily influence which brands people buy and which consumer products and retail companies succeed,"
Worryingly, for physical retailers who need to retain an edge over often cheaper online competitors, the PwC survey shows customers are becoming less satisfied with their in-store experience. Lack of expertise among staff is a big and growing problem, it shows. Almost half (49pc) of respondents are not happy with sales associates' knowledge of their own product range, up from 37pc last year.
The survey also found big support for shopping locally – which 59pc of Irish online consumers feel it is important to support their local economy, and for quality and product traceability reasons.
If you would like to explore opportunities with your online presence we would be happy to help, email ruth@fullermarketing.ie to talk more.
You can read more on the Irish Retail and Consumer report from PwC here https://www.independent.ie/business/technology/news/instore-experience-must-adapt-to-combat-rise-of-online-shopping-36698651.html